Twitter war erupts between Telangana leaders K Kavitha, Bandi Sanjay over women empowerment
On social media, a heated exchange occurred between Bandi Sanjay, the president of the Bharatiya Janata Party (BJP) in Telangana, and K Kavitha, an MLC representing the Bharat Rashtra Samithi (BRS) party. The issue at hand was women empowerment.
Kavitha raised questions regarding the exclusion of President Droupadi Murmu from the inauguration of the new Parliament building. She also criticized the mishandling of wrestlers in New Delhi. Sanjay, in response, accused the BRS government of disrespecting the governor and neglecting women's welfare and safety. He also alleged that tribal women were being harassed by the police.
Sanjay tweeted, "Governor does not get respect. There is no support for girls. The police crackdown on tribal women. Bathukamma gets insulted. However, the party will only stand up for its own daughter for the sake of power. This is KCR's women's welfare." Kavitha fired back by stating, "The President, who is a tribal woman does not get honor in the inauguration ceremony of the Parliament building. No action will be taken against a BJP MP even though women wrestlers stage dharna day and night against harassment in the national capital. Women being dragged along the streets of the national capital."
Kavitha expressed disappointment that the "Beti Bachao Beti Padao" movement had been reduced to mere slogans without addressing real women's issues. She criticized the BJP for neglecting women's education, healthcare, and the welfare of the girl child. She also highlighted the negative consequences of such neglect.
Kavitha concluded by stating that women have already made their decisions against the BJP, suggesting that the party would lose support from women.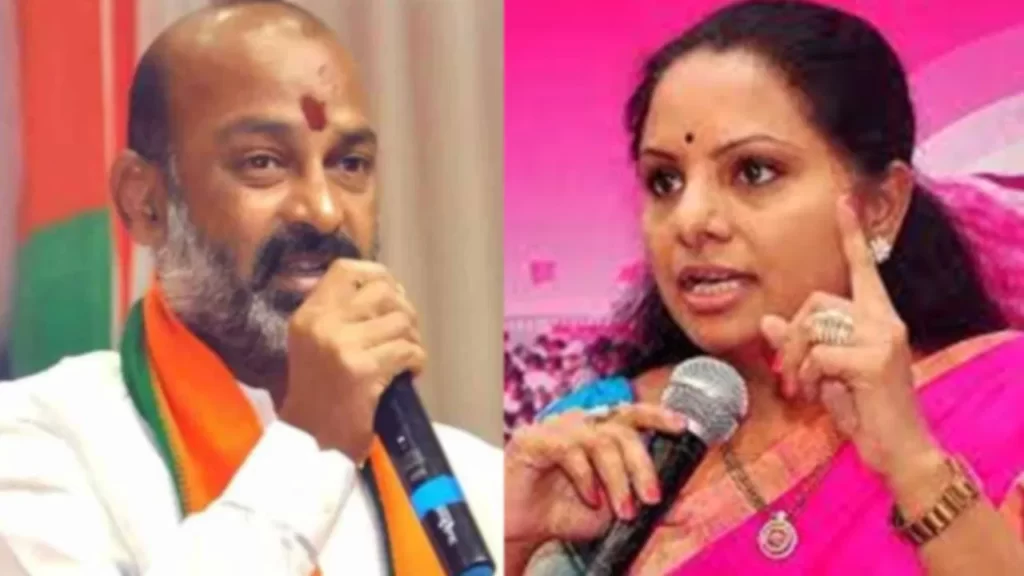 Sanjay responded by accusing the BRS of being silent about the mistreatment of women leaders within their own party and failing to take action against those responsible for harassment. He also claimed that the BRS hinders individuals who fight for the rights of the poor and cannot protect anyone, regardless of age.
Sanjay further criticized the BRS for deceiving women in the name of double-bedroom houses and being heartless towards infants' deaths. He suggested that women in Telangana have realized this and called on the BRS to take action.
On social media, a heated exchange occurred between Bandi Sanjay, the president of the Bharatiya Janata Party (BJP) in Telangana, and K Kavitha, an MLC representing the Bharat Rashtra Samithi (BRS) party. The issue at hand was women empowerment. Kavitha raised questions regarding the exclusion of President Droupadi Murmu from the inauguration of the new…